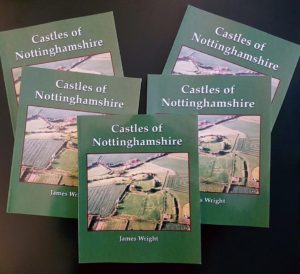 To celebrate the tenth anniversary of the publication of Castles of Nottinghamshire by James Wright (Nottinghamshire County Council 2008) we have located a batch of this book via our friends over at Inspire Culture and will be offering it for sale again…
Castles of Nottinghamshire is a study of the county's lesser known castles, providing a synthesis of recent archaeological and historical research. It examines their place in the landscape, their role in both war and peace, how they survived today and looks at current historical, archaeological and architectural techniques in castle studies. Finally, it provides a gazetteer of all known castle sites in Nottinghamshire for anyone to visit the surviving remains themselves.
Reviews for Castles of Nottinghamshire:
"The volume is well illustrated, with cutting-edge survey techniques providing striking new views of several sites. It endeavours to understand sites from a wide variety of perspectives, including their medieval landscape settings and post-medieval legacies and re-uses… a useful and up-to-date volume informed by genuinely new research on otherwise neglected monuments."
~ Professor Oliver Creighton in Mediaeval Archaeology
"…. an excellent introduction both to the variant forms of the English castle and to the surprising number which can be traced in Nottinghamshire…"
~ Nottinghamshire Historian
To order your copy of the book please follow these links for UK or Worldwide orders:
Pay with debit/credit card or via Paypal.
UK Orders: £5.95 + £2.90 postage & packing.
Worldwide (Non-UK) Orders: £5.95 + £7.60 postage & packing.