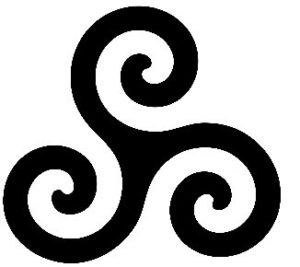 Founded in the autumn of 2015 Triskele Publishing is an independent company based in Nottingham and Cheltenham which specialises in limited run historical publications.
Our latest title is A Palace For Our Kings by James Wright and is out now. Find out more about this publication here…
Why 'Triskele'?
The triskele is an ancient symbol first encountered during the European Bronze Age. It is a triple-spiral design whose shape and meaning has been endlessly re-interpreted by the many cultures who have used it.
As such it has been a motif used by prehistoric, Christian, neo-pagan and modern communities as a symbol relating to monuments, ceramics, coinage, heraldry, eternity and ritual protection.
The ever-changing symbol is a reminder of the continuing passage of time and the manner in which history is constantly re-interpreted by new generations.