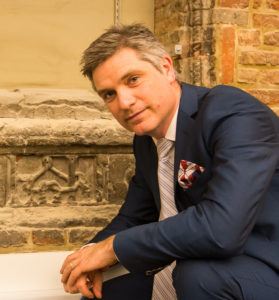 Renowned architectural historian Dr Jonathan Foyle has contributed the foreword to A Palace For Our Kings by James Wright. The book relates the history and archaeology of a Mediaeval royal palace in the heart of Sherwood Forest.
Jonathan is a broadcaster, journalist and historic buildings consultant with a background in heritage conservation, research and curating buildings such as Hampton Court. He is Visiting Professor in Conservation at the University of Lincoln and has authored monographs on the cathedrals at Lichfield, Lincoln and Canterbury. Perhaps he is best known for his BBC television programmes Henry VIII: Patron or Plunderer? and Climbing Great Buildings. Further information about Jonathan's work can be found on his website.
The two authors first encountered one another through their mutual interest in the late Mediaeval great house at Knole in Kent which was transformed into a Renaissance progress house during the early seventeenth century. Their shared enthusiasm and expertise for the subject of Mediaeval and Early Modern buildings has led to a collaboration on the book A Palace For Our Kings written about one of the very largest royal palaces ever to have stood in England.
Jonathan said: "Over the last decade or so, the author's reassessment of the importance of Clipstone has led to significant discoveries. From the wide-eyed to the scrutineer, this book is warmly commended to any whose curiosity is aimed at better understanding that most enthralling era."
James said: "Working with such a well respected expert in the field of historic buildings has helped to give a solid grounding to the study of Kings Clipstone. I am very grateful to Jonathan for taking such an interest in the site and helping to establish its rightful context alongside some of the greatest Mediaeval palaces in the country."
A Palace For Our Kings will be released during the summer of 2016 by Triskele Publishing.