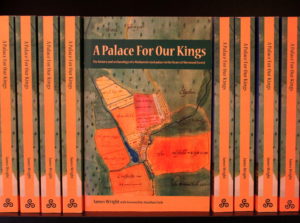 As A Palace For Our Kings by James Wright reaches its first birthday we have taken the decision to reduce the price of the book to just £10 + postage.
Head over to our online shop to take advantage of this offer.
Released in June 2016 – and entering into a three print editions in under six months – the publication has been described as "an informative, rewarding read" , "a marvel to read" and "bursting with meticulous facts".
The author, James Wright, said: "The journey that I have been on with A Palace For Our Kings began in 2004 and has occupied my life for over thirteen years. I do hope that those who read the book will enjoy reading it every much as much as I enjoyed researching and writing it. Now is a very good time to concentrate on brand new research on other equally absorbing sites and subjects."
Consequently, this will be the final edition of A Palace For Our Kings and when the remaining stock is gone it will not be reprinted again.